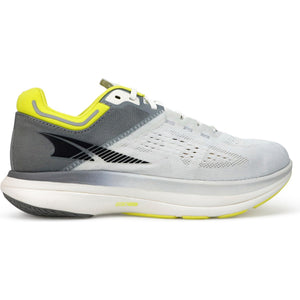 Set speed records in the Altra Vanish Tempo.

The lightweight, plateless Altra Vanish Tempo is fast and energetic. It contains Altra's EGO™ PRO midsole, which is their lightest foam. Soft and responsive underfoot, you will feel like you are flying. With a higher stack height than its carbon-plated counterpart, the Altra Vanish Carbon, the Vanish Tempo is more durable and gives you more cushion underfoot.
The Vanish Tempo contains Altra's signature balanced cushioning and FootShaped™ toe box that lets your toes splay naturally. The Vanish Tempo is built on Altra's slim fit last, meaning it has the slimmest silhouette of Altra's shoes and gives you a supportive midfoot designed to keep you moving fast and going far.
A lightweight and breathable engineered mesh upper allows you to light up the track on speedwork days without your feet feeling like they are on fire. The heel collar is defined with cushioning for a secure, locked-in feel, and it has reflective detailing so you can be visible when the sun is down.
Comfort meets speed in the Altra Vanish Tempo.