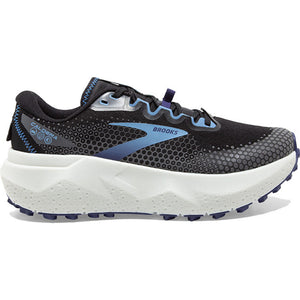 [Featured in our Best Trail Running Shoes Guide]
Completely redesigned from top to bottom, the Brooks Caldera 6 gives you cushioning and comfort for the long haul.
Brooks used their nitrogen injected DNA LOFT v3 foam in the Caldera's midsole that was also used in the out-of-this-world Brooks Aurora-BL. For long miles offroad, this soft and lightweight foam gives you plenty of pop to keep the legs feeling fresh, while also absorbing the impact of roots and rocks.
Comfort is ultra-important for going ultra-distances—the Caldera uses an internal midfoot saddle and raised midsole foam walls to keep your foot secure and supported. A widened base and split-heel outsole adapt and flex to stabilize your landings, smoothly carrying you over uneven terrain. Our reviewers loved how supportive and stable this shoe felt on the trails in our Brooks Caldera 6 review.
To keep you confident and nimble on varying terrain, Brooks added multidirectional lugs on the outsole that bite when the trails get messy. The quick-drying upper will come in handy for stream crossings or deep puddles, while the TPU toe cap offers plenty of protection from debris.
Go the distance—the supreme softness and stable ride of the Brooks Caldera 6 will help you go farther on the trails.