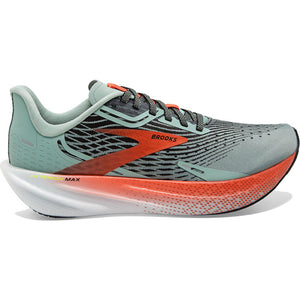 Get ready to hit top speeds with the Brooks Hyperion Max.
This lightweight shoe will give a pep in your step. It's made with nitrogen-infused DNA FLASH cushioning that returns energy and adapts to your stride. The substantial midsole foam helps absorb impact whether you are doing speedwork or your long run, so you can train harder and longer.
The Hyperion Max is ready for forward motion with its Rapid Roll technology. The unique curve of the heel and toe propels you forward for quick transitions to make hard running feel effortless. Reviewers noted that it felt better the faster you go in our Brooks Hyperion Max Review.
The Green Rubber outsole is designed with the environment in mind, yet it also boasts a lightweight feel and durability to help your performance. A light stretch woven upper and 3D Fit Print provides optimal structure and breathability.
Lightweight, cushioned and bouncy, the Brooks Hyperion Max will get your legs moving and make running a bit more fun.