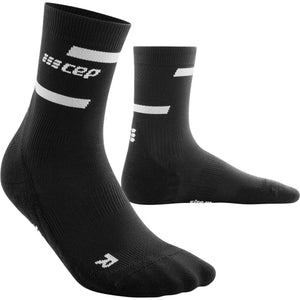 Built for performance and comfort the CEP The Run Compression Mid Cut Sock 4.0 is better than ever.

Improve your endurance and keep your feet feeling great, both during and after your workout. These socks have targeted compression in the arch and ankle that increase blood circulation, give deep sensory stimulation and provide premium support. This helps reduce swelling and pain associated with Plantar Fasciitis and Achilles tendonitis.
These socks are fantastic for running since they are made with moisture-wicking fabric that keeps feet cool and blister-free. There are also innovative air channels in the footbed and extra ventilation zones for optimal breathability and comfort. Plus, they are treated with silver to reduce stinky odors and eliminate bacteria.
Run more comfortably, these socks give you shock absorption from perfectly positioned anatomical padding on the bottom of the feet. The versatile height of these socks pairs well with any style of shoe or outfit so you don't have to compromise performance for looks.
Run and recover in comfort and style with the CEP The Run Compression Mid Cut Socks 4.0. Read more about compression socks and how they work and check out our CEP The Run 4.0 Compression Socks & Sleeves review.