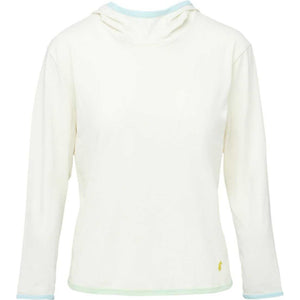 Stay protected from the bright sun with the Cotopaxi Sombra Sun Hoodie.
This hoodie will keep you protected from harmful rays by covering your skin and having a UPF 50+ rating. No need to fear that you will burn up wearing this hoodie, it is breathable and wicks away sweat to keep you cool and comfortable. It is made from two different fabrics, one of which is 100% recycled polyester, so you can feel good about wearing it. Plus, it has Polygiene® anti-odor finish, so you smell good even when you wear it all day long.
Throw this hoodie on over a tank top—it looks stylish with the scuba hood and contrast binding. There is a stretch woven invisible stash pocket at the back side seam so you can store essentials on your adventure. And there are thumbholes. Enough said.
Stay outside all day with the Cotopaxi Sombra Sun Hoodie.