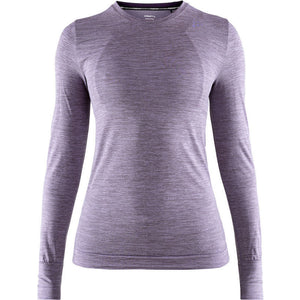 Fuseknit Comfort is a new functional crossover baselayer that features the innovative Fuseknit Technology, which combines seamlessly knit parts with ergonomic and strategic seams to create soft and supple garments.The result is fewer seams and a smooth, chafe-free and highly comfortable experience. The contemporary expression make these items the perfect choice for all kinds of light to moderate outdoor activities, from running to alpine skiing, hiking or enjoying a relaxed apres ski.
Bodymapped with different structures for optimal thermoregulation.
Seamless Fuseknit design for optimal comfort.
Quick drying.
Soft touch.
Recycled polyester mix.
Uses: For light to moderate intensity workouts or everyday use; Hiking, Light Running and Training, Alpine, Cross Country and Backcountry Skiing, Cross-functional for everyday use
Temperature Range: Cool to cold temperatures
Fit: Semi-relaxed fit
Fabric: 67% polyester, 31% polyamide, 2% elastane