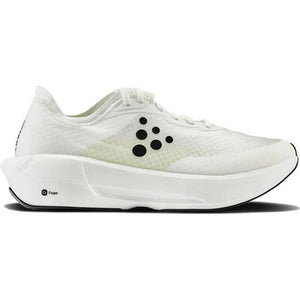 Take your performance to the next level with the Craft Nordlite Speed.

This super shoe was engineered to enhance your run whether you are an elite or everyday runner. The full Cr Foam™ midsole provides an ultra-lightweight cushion and explosive rebound. The Ultra Carbon Plate™ is a tuned carbon fiber plate with a precision split for torsion to make your run as propulsive and efficient as possible.
The hybrid traction outsole is a three-piece lugged outsole that is made for the roads but can also handle light trails and varying weather conditions with ease.
The upper is a single layer of translucent TPU mesh that is light, comfortable and durable. It is snug in the heel and midfoot while giving you additional room in the forefoot for more comfort and performance.
The Craft Nordlite Speed is a durable carbon-plated shoe that will get you to the finish line in a flash.