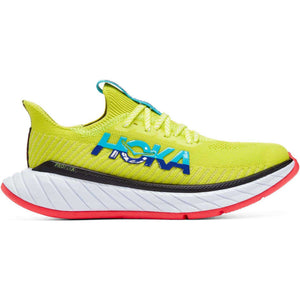 Propel your way into hyperspeed with the HOKA Carbon X 3.
HOKA fine-tuned the midsole to give you a more energized ride. This endurance racer is engineered with a responsive carbon fiber plate and an aggressive Meta-Rocker to propel you efficiently through your stride. It has a rubberized EVA outsole that is durable and grippy for confidence at top speeds.
Snappy and lightweight, the Carbon X 3 is light and fast enough for racing, but durable enough to use as an everyday trainer. One of the best carbon-plated shoes, the Carbon X 3 has a wider platform compared to others brands in this category to give you a more stable ride.
The upper is brand new in the Carbon X 3. HOKA gave it a premium engineered-knit upper that is designed for lightweight and breathable performance. It has a bootie-like construction with an extended heel tab designed for an easy pull-on. Plus, its bold, asymmetrical colors will make a statement on your run.
Fly to the finish line in HOKA Carbon X 3.
Read more in our HOKA Carbon X 3 review.