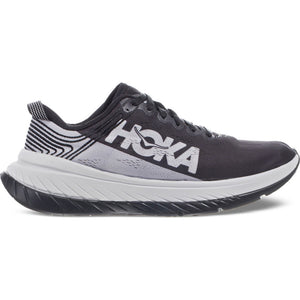 The HOKA ONE ONE Carbon X is a race-day speedster disguised as an everyday trainer.
Featuring a carbon-fiber plate, the Carbon X propels you forward with each step. Designers put a slight curve in the stiff plate to work with the midsole's rocker shape. Together, the plate and midsole shape give the shoe an exaggerated forward roll for a silky smooth ride.
But it's not just another fast racer: Carbon X packs the cushion, too. HOKA sandwiched the carbon-fiber plate between two slabs of protective foam, which gives it a signature HOKA feel. The two layers of foam aren't as squishy as other HOKA running shoes—like the Bondi 6 or Clifton 6—but they make the shoe a capable distance runner.
Fleet Feet runners praised the shoe's ability to run fast and provide maximal cushion. In the Carbon X review, one runner says, "It has a rare combination of the low-to-the-ground feeling and responsiveness of a racing flat and the protectiveness of a high-cushion shoe."
So lace up the HOKA Carbon X next time you're targeting your personal records—it's up for the challenge.
Tech specs
Price: $180
Weight: 7.2 oz, women's size 7; 8.7 oz, men's size 9
Drop: 5 mm
Use: Race day, everyday trainer
Surface: Road, track