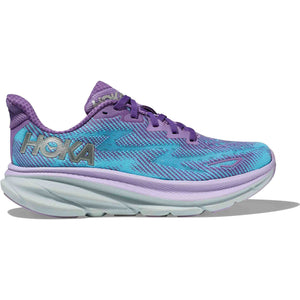 The perfect combination of soft and light exists in the HOKA Clifton 9, making it one of the best running shoes on the market today.
HOKA revamped its midsole foam to make it more responsive, and added 3 mm of stack height for a softer underfoot experience. This cushioned and lightweight foam has HOKA's signature early stage Meta-Rocker that rocks your foot forward to give you smooth transitions.
Run for more miles, the Durabrasion rubber outsole extends the sole's longevity, and HOKA redesigned the outsole for more comfort.
A breathable engineered knit upper provides for a lightweight and comfortable foot-hugging fit, while the streamlined tongue is gusseted to prevent any slippage. Plus, they added a reflective heel panel to give you more visibility in low light situations.
The HOKA Clifton 9 is lighter, bouncier and more cushioned to give you a great experience whether you are running your first 5K, have been running for years, or just want a comfortable shoe to wear around the block.
Watch Caroline in our HOKA Clifton 9 review to learn more.