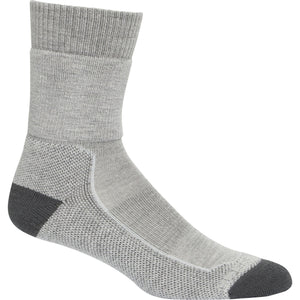 The women's icebreaker Hike+ Medium Crew Socks are built for long hikes and multi-day backpacking trips.
The socks you wear can make or break your time outdoors. The Hike+ Crew Socks are lightweight, durable and odor-resistant for maximum comfort while you're on the trail.
They have an anatomical toe box for a unique left and right fit, while support around the Achilles and ankle keep you stable and give you a premium feel. Sculptured cushioning adds some extra softness for long treks while ventilation zones keep your feet cool and dry.
Made from a combination of moisture-wicking merino wool and compressive nylon, the fit, warmth and durability of the icebreaker Hike+ Medium Crew Socks make them a must-have for your next adventure.
Looking for the same great trail sock but with a thinner feel? Check out the icebreaker Hike+ Light Crew Socks.