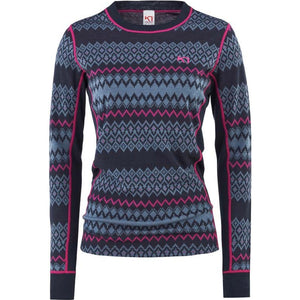 Whether you are trying to fit more running into the short winter days or just find a cute winter top to wear for a date, the Kari Traa Agnes 2.0 Long Sleeve is both beautiful and functional.

This jacquard-knit Nordic pattern top combines wool and technical fibers to give you everything you need in a winter running top—warmth, breathability, moisture wicking and softness. Ready for intense workouts, this top has durable stretch fabric with flatlocked seams and underarm panels to stop it from riding up.
The wool fibers give you isolation to keep you warm and comfortable, even if they get wet. Made using ethically sourced Merino wool and wood-fiber modal fabric, it will keep your body warm and your conscience clear. Plus, this gorgeous top makes it fun to go outdoors in the cold.
Flattering, fashionable and functional, the Kari Traa Agnes 2.0 Long Sleeve does it all.