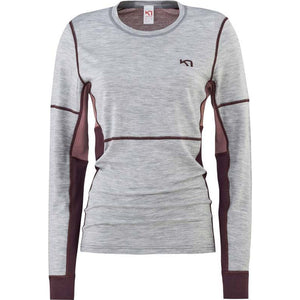 Whether you are camping, running or having an epic snowball fight, the Kari Traa Lam Long Sleeve top is the perfect baselayer to keep you comfortable.
This shirt is super-soft, super-smooth and super-breathable thanks to the 100% ethically sourced Merino wool. The wool fibers give you supreme isolation whether the shirt is wet or dry, keeping you cool in the summer and warm in the winter. Plus, it is naturally odor-resistant, so you'll still smell good when you stop for coffee after your run.
The four-way stretch fabric gives you freedom of movement, while the mesh ventilation stops you from overheating. Flatlocked seams and super-fine wool give you next-to-skin comfort, so you never want to take this top off. Plus, Kari Traa used ergonomic lines that flatter you to give a feminine, pro-sport look.
Run all year round in the Kari Traa Lam Long Sleeve.