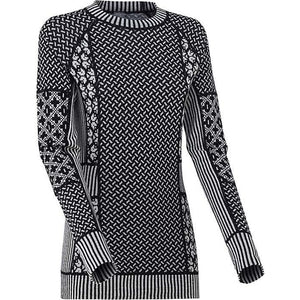 Be warm, cute and cozy in this Kari Traa Smekker Long Sleeve shirt. This 100% Merino wool baselayer is lightweight, yet keeps you warm whether you are hitting the slopes or running a winter race.
With its rounded neck and Nordic-inspired jacquard knit patterns, this top creates flattering lines. The flatlock seams provide additional comfort and a smooth finish. The Merino wool feels amazingly soft next to your skin, is naturally breathable and odor-resistant, and keeps you warm and insulated even if it gets wet. With a top that looks and performs this well, you may be finding excuses to go outside this winter.
Looking for other cold weather running apparel? Check out our guide on the best winter running apparel.