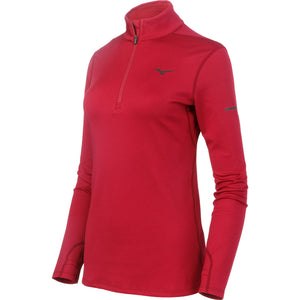 The only half-zip you'll ever need, the Mizuno Breath Thermo® 1/2 Zip is incredibly lightweight for the amount of warmth it produces.
Suitable for tundra-type conditions, the uses for this running half-zip are endless. You can wear the Mizuno Breath Thermo running, cross country skiing, hiking, après skiing and so much more.
It features Mizuno's signature Breath Thermo fabric that actually gets warmer as your body starts to generate body vapor and sweat. So if you start your run with a cold chill in your bones, you likely won't be freezing for very long.
Thumbholes let you hide your knuckles under your sleeves when it's chilly, and stretchy, moisture-wicking fabric keeps you dry so you don't get the chills from your own sweat.
Keep your body warm on your next cold-weather adventure with the Mizuno Breath Thermo Half Zip that generates heat as you sweat, provides 360 reflectivity and is more comfortable than ever.