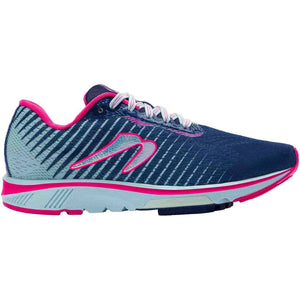 The Newton Gravity 12 is supercharged with more cushion and energy return to help you soar to new personal records.
Newton took its next-generation NRG and Hytel foams and put them into the Gravity 12 to give you better impact absorption and rebound, while still maintaining its durability and responsiveness. The XPS+ plate is activated by movement of the lugs in the midsole and outsole, creating a springy cushioning system that provides more energy return.
The upper is made to feel secure and comfortable with a highly breathable seamless engineered mesh. It is anatomically structured and gendered-tuned to fit and perform. Plus, the shoe is constructed of the most durable recycled materials that remove over four water bottles from the waste cha and biodegrade faster than the standard shoe.
Run further, faster and feel less fatigued with the Newton Gravity 12.