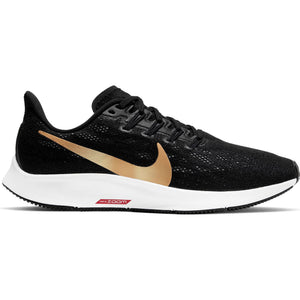 The Pegasus is the all-time best-selling pair of Nike running shoes. And the Nike Air Zoom Pegasus 36 will continue the streak.
The new Peg is slimmer and cooler than previous models of the shoe. Nike achieves that by redesigning the mesh upper and cutting weight from different parts of the iconic running shoe.
Nike punched more perforations in the mesh upper to deliver a breezier feel than before. Those extra holes target high-heat areas—the forefoot and arch—to vent the extra warmth your feet generate when your start moving.
Designers also crafted a slimmer heel collar and thinner tongue to reduce bulk around your foot. But the collar still flares away from your Achilles tendon, so there's no uncomfortable rubbing.
Nike threaded Flywire cables through the midfoot to lock your feet into place when you reach top speed, and they added a high-resiliency sock liner that adapts to your unique foot shape.
Fleet Feet runners love the new version. In our review of the Nike Pegasus 36, testers say the shoe feel light, nimble and very fast—perfect for any day when you need to leave a few seconds in the dust.

The updates make the Nike Air Zoom Pegasus 36 the best Peg yet.