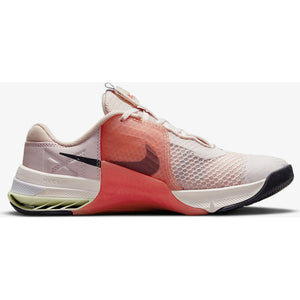 Your perfect functional fitness partner, the Nike Metcon 7 combines the stability of a lifting shoe with the comfort of a running shoe.
The Nike Metcon 7 got even tougher and more stable. Nike added React foam to this shoe for comfort and extra pop on those high-intensity cardio days. This foam is lightweight and springy, which is great for both sprints and box jumps.
The Metcon 7 has a wide and flat heel to keep a stable base for lifting weights. Plus, Nike added an inner plate that distributes the weight from edge to edge but flexes to keep it comfortable when you are running. There is also a handstand clip at the heel that minimizes drag during wall exercises.
Giving you excellent traction whether you're in the training room or on pavement, the new re-engineered rubber outsole wraps up the arch, so you have the necessary grip to climb up ropes. There are also grooves in the sole that let your forefoot bend naturally.
The lightweight mesh upper keeps your feet cool as your workout heats up, while textured overlays in high-wear areas add durability. There is no need to fear your shoes coming untied in the middle of a WOD—the Metcon 7 features a tab that locks down the laces to prevent them from coming untied. Plus, the Flywire cables integrate with the laces to secure your midfoot as you workout.
Challenge your limits in the Nike Metcon 7.