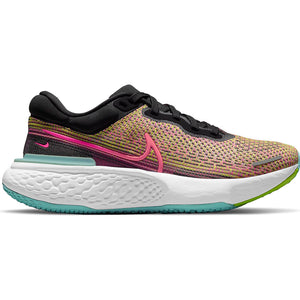 Easy on the legs, the Nike ZoomX Invincible Run Flyknit gives you a bouncy and supported ride to keep you on the run.
This marshmallow-soft stability running shoe will help you increase your mileage and get after those long runs. The lightweight and responsive ZoomX foam gives you more bounce with each step and the bottom is curved like a rocker to support the entire gait cycle. It offers flexibility when your foot rises off the ground, a smooth ride when your foot is moving forward and cushioning at ground contact to help curb overpronation and give you an energetic feel.
The step-in feel of the ZoomX Invincible Run Flyknit is luxuriously soft and uses an evolved Flyknit upper that hugs the foot to keep you secure and supported. Incredibly breathable, the sock-like fit has strategically placed zones to help keep your feet cool where they heat up. For even better stability, a panel is embedded in the Flyknit to cradle the heel as you land.
Nike used runner-informed data to design a waffle outsole for smooth traction where you need it and durability to hold up to high mileage. In our Nike ZoomX Invincible Run Flyknit review, testers loved how light, bouncy, flexible and free the running shoe felt.
Lace up and feel the potential of the Nike ZoomX Invincible Run Flyknit whether you're tackling a 20-miler or growing into a more avid runner.