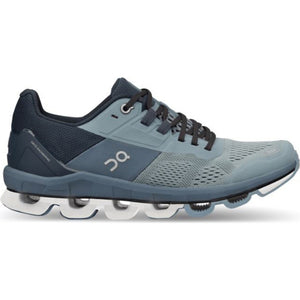 Find maximum cushion and support in the On Cloudace 2.0. On reengineered the Cloudace with new material compositions and shape to give you the best long-distance support.
You'll feel the plush cushion as soon as you step into the Cloudace 2.0. There is a layer of comfortable foam on top of the Speedboard® that gives you instant comfort. Plus, your foot will fit perfectly thanks to the molded elements around the sides that hold your foot in place.
On used a new material composition in their Speedboard® to give you even more energy return and a smooth, springy ride. They also widened the Speedboard® to give the Cloudace a more stable base to push off from. All of this means that you will want to run further and explore more.
Running in Ons feels like running on clouds. And they redesigned their CloudTec® technology in the Cloudace. The Rebound Rubber Clouds at the forefoot give a powerful push-off, while the larger clouds of Helion™ superfoam at the heel offer optimal impact protection. This combination of increased toe spring and heel rocker provides the optimal gait transition to keep you running quick and strong.
For runners who overpronate or need some more support, the Cloudace is the perfect shoe for you. The wider platform created by the Speedboard and unique CloudTec configuration will keep this shoe smooth and stable. So pull out that ace up your sleeve and beat your past performances in the On Cloudace 2.0.