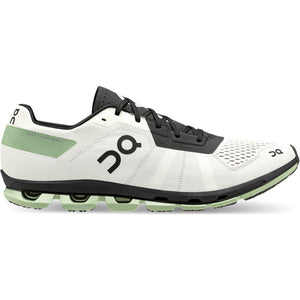 The On Cloudflash 2.0 is meant for racing and speed. On Running took feedback from elite athletes and redesigned the Carbon-fiber-infused Speedboard™ to deliver a smoother and more responsive ride. They added two layers of Helion™-powered CloudTec® which means better cushioning and ground feeling. Finally, there is a new traction pattern, which offers superior grip in wet racing conditions.
The upper in this shoe is made with racing in mind. The single-layer engineered mesh is ultra lightweight. There is a new heel, with a lower curve and molded padding for a more secure fit. No-sew support in the forefoot and metatarsal areas helps keep feet feeling fresh instead of tiring at the end of a race. The Cloudflash 2.0 also has nonlinear lacing to lock the foot in place.
This shoe will work for track work and tempo runs, but it is built to race. The aggressive rocker shape of the shoe allows for unrivaled speed and explosivity in a lightweight shoe. The Cloudflash is built to race up to a 10K. For a racing shoe from On meant to go even farther, check out the On Cloudboom.