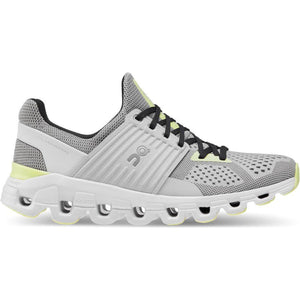 From running city streets to running daily errands, the women's On Cloudswift has everything you need.
On designed the Cloudswift with a Helion foam midsole. The proprietary foam composition soaks up the impacts of running on pavement, but it bounces back quickly for a responsive ride.
A lightweight mesh upper breathes easily during those sweltering summer miles, and the minimalist aesthetic looks as good on a workout as it does at the coffee shop.
Powered by On's unique Speedboard technology, the new women's Cloudswift delivers snappy steps for every mile of your training.