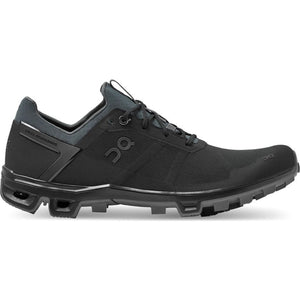 The Cloudventure Peak boasts a secret inside: the patented On Speedboard. This is what promotes explosive forward-motion on the ascent, yet also provides protection for the foot on uneven terrain - a sort of Swiss-army-knife for your feet.
The 4 level Grip-Profile of the Cloudventure Peak means that on any surface, you have the traction to feel in control. With the grip built on to the Cloud elements themselves, soft landings and firm take-offs still happen, even in the wildest race conditions.
Invisible taped reinforcements in the ripstop upper of the Peak envelope your foot in the ideal fit and secure hold, while protective heel and toe caps further protect you from whatever the trail has in store for you. All up: less things for you to worry about on race-day.
The Cloudventure Peak is one of the lightest trail running shoes on the market, yet still provides you with the grip, protection and support needed for race-day. The flexible outsole lets you retain your foot's power every step up the mountain, while CloudTec® supports and cushions your decent to the finish line first.