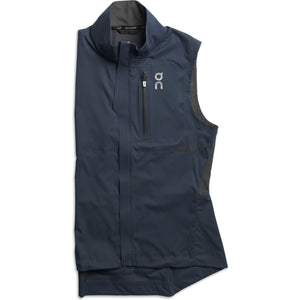 Relax on your run knowing you're protected from the elements in this ultra-lightweight Weather-Vest. It's the shield you can trust when you can't rely on good weather.
Weather protection never felt so free. Stay cool and airy when the tempo, or temperature, rises thanks to the vest's breathable front, back and side panels.
Look and feel unstoppable with featherweight Japanese stretch fabrics that combine function with perfect form. Engineered for both ventilation and visuals, you'll look sharp before, during and after your run.
With the Weather-Vest light in weight doesn't mean light on details. Water-repellant coating on the front means you're always ready for rain, while waterproof-zippered pockets keep your valuables secure and dry. Reflective elements come to light after dark to help you stay seen and safe.