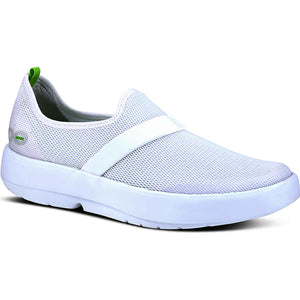 You will be saying, "Oh my goodness!" when you step into a pair of OOFOS OOmg Mesh Low Shoes. This fully-closed recovery shoe combines OOFOS patented footbed design and OOfoam® technology with a four-way mesh upper to create a remarkably comfortable shoe.

Take the stress off of your tired feet. The footbed design reduces stress on the knees, ankles and other joints. The OOfoam® technology absorbs 37% more impact than traditional footwear, so you feel like you are walking on pillows.
No need to worry if you get these shoes dirty, the closed-cell foam is machine washable. Plus, the foam and four-way mesh is designed to minimize odor—perfect for people who hate to wear socks in their shoes.
You ask a lot of your feet, thank them for all that they do with a pair of OOFOS OOmg Mesh Low shoes.