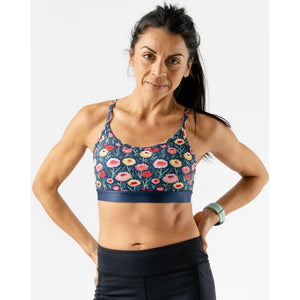 Beautiful and sleek, you will look and feel amazing in the rabbit Mother Runner Strappy Pocket Bra.
This flower-patterned sports bra is cute and fashionable with thinner straps and a lower neckline to streamline the design. Considered one of the best sports bras, the Strappy Pocket Bra provides moderate support for runners with A/B or B/C cups. It's made with super lightweight and quick-drying fabric, so you'll stay cool and comfortable all run long.
One of the best features of this bra is the large center back pocket that fits most phones with minimal bounce. Plus, it comes with two removable cookie inserts, so you can get the look and feel you prefer.
It is lined with sustainable nylon that is made from recycled coffee grounds and helps the sports bra dry quickly, controls odor and feels cool to the touch. Plus, there is a Mother Runner woven label on the back.
Wear the rabbit Mother Runner Strappy Pocket Bra under your favorite running top or all by itself for a comfortable and fun run.