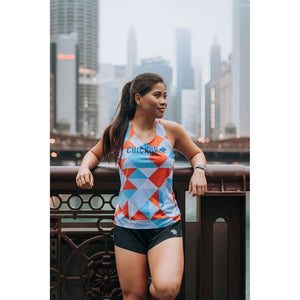 Reach max speed in style come race day in the women's rabbit Speedeez Tank - Chicago 2022.
The clothes you wear matter when you're training for a marathon. The Speedeez Tank is made with rabbit's lightest and most technical, moisture-wicking fabric that feels like you are wearing nothing.
The tailored fit and racerback design of this race-ready singlet keep you sleek and fast as you chase down the competition. Plus, laser cut perforations and bonded construction give the tank superior breathability and prevent chafing so you can focus on setting your next PR.
Perfect for hot summer training runs and grueling races through the Windy City, zoom ahead in the rabbit Speedez Tank - Chicago 2022.