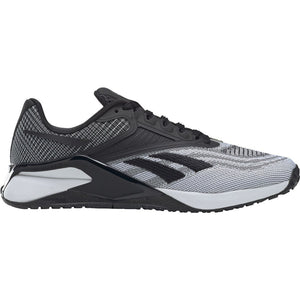 Whether you are doing box jumps, burpees or lifting weights, the Reebok Nano X2 is a versatile cross-training shoe.
The Rebook Nano X2 is a perfect shoe for people who want to switch up their fitness routine regularly. The Floatride Energy Foam gives you lightweight, responsive cushioning that is perfect for CrossFit or HIIT classes.
Go ahead and lift those heavy weights, the Nano X2 has a TPU heel clip with rubber that extends to the midfoot keeps your heel and midfoot secure and stable as you lift heavy weights or move quickly in all directions. The rubber outsole has a high-traction lug pattern to give you grip to move and cut both indoors and out.
One of the biggest changes to this version is the Flexweave® woven upper. It delivers a comfortable stretch without sacrificing the toughness your training requires. The Flexweave® has integrated support for stable movement in every direction, so you can be focused on your workout and not your feet.
Lift, run, squat and jump to your heart's content in the Reebok Nano X2. It is a great all-purpose training shoe that can handle nearly any workout you put it through.