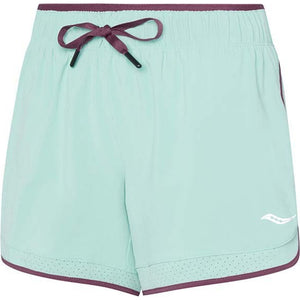 Run in comfort with the Saucony Outpace 5" Short.

These simple shorts are done impeccably well. They contain everything you need to have a wonderful run—an elastic waistband with an internal comfort band and exterior drawcord, a small zippered back pocket, and a comfort brief liner. Plus, the shorts are made with moisture wicking material and have a perforated panel near the hem that adds style and additional breathability.
The 5" inseam is that perfect middle-ground length, giving you good leg coverage that's not too long. Whether you are just getting started with a new walking habit or doing a treadmill workout, these shorts will work marvelously.
Saucony Outpace 5" Short will have you excited to go for a run.