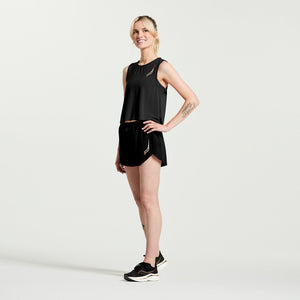 The Saucony Pinnacle Crop Tank can keep up with even the toughest workouts and races.

This top's front knit panel is powered by TurboWick, a patent-pending fabric technology that moves sweat to the outside of the garment, while the back is made of a soft, recycled mesh. This top has bonded and laser-cut hems, so there are no distractions on your run and a dropped armhole to give you full range of motion when you kick it into high gear.
Get ready to feel amazing in the Saucony Pinnacle Crop Tank.