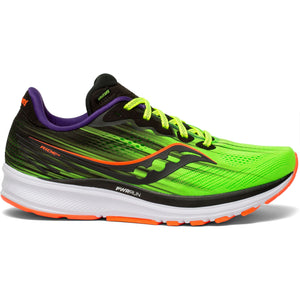 The women's Saucony ViziPro Ride 14 is a workhorse of a daily training shoe. For maximum visibility running and walking on the road, Saucony's designers supercharged their long-trusted Ride 14 with ultra-bright colors and reflective details.
The Ride 14 is on our list of best running shoes because of its comfort and reliability. The PWRRUN foam provides an ideal balance of responsiveness and cushioning, making it great for uptempo paces and long runs.
Designers gave the new model an accommodating, straightforward fit that works for most foot shapes. In the Saucony Ride 14 review, Fleet Feet runners praised the shoe's fit for its comfortable feel at any distance.
A durable rubber outsole creates excellent traction without sacrificing flexibility so you can stay sure-footed in wet conditions. However, if you're looking for a true weather-resistant shoe, we recommend the Saucony Ride 14 Runshield.
Now with extra reflectivity to give your stride a sweet highlighter effect when light hits them, the Saucony ViziPro Ride 14 is faster and more dynamic than ever before.
Watch: Saucony Ride 14 Review
Versatile for long runs or workouts where you feel like picking up the pace, see why Victor considers the Saucony Ride 14 a workhouse shoe that's guaranteed to deliver.