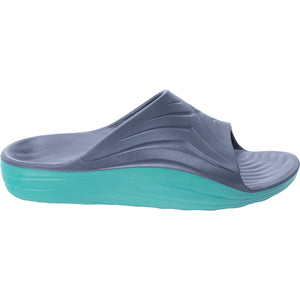 Why recover when you can re-energize? Superfeet® Aftersport™ slides combine cloud-like cushion with energizing Superfeet shape for a naturally supportive foundation made to keep you feeling, refreshed and ready for your next workout. Prevent injury, relieve pain and give your body the energizing comfort you deserve.
Sculpted Support: like the perfect mattress, for structure, shape and underfoot support that doesn't crush under pressure.
Smooth, Polyurethane Construction: keeps its shape for a new shoe feel with every wear.
Aerosoft™ Comfort Foam: cushions the foot for step-in comfort.
Textured Anti-Slip Footbed: encourages airflow and maximizes breathability.
No-rub Upper: feels smooth against bare skin.
Made in the USA: created, designed and manufactured in the United States.