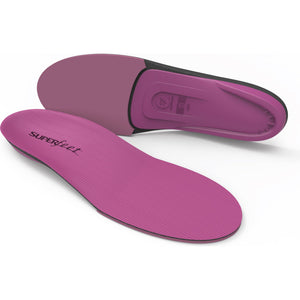 Superfeet BERRY insoles are designed specifically for the proportions of the female foot, however, anyone can enjoy the cushion, shape and support the insoles add to your running, walking or hiking shoes.

A narrower heel cup and women's specific medium-high arch shape give your feet natural support by cradling your heels and hugging your arches to enhance the way your feet are intended to move.
BERRY insoles use a resilient, high-cushion foam in the forefoot for a little more spring in your step and softer landings during running and high-impact activities.
For all-day comfort and pain relief, slip Superfeet BERRY insoles into your footwear and experience their legendary shape and support. If you're unsure between Superfeet BERRY vs ORANGE vs GREEN vs BLUE, check out our guide on how to choose the best Superfeet Insole.