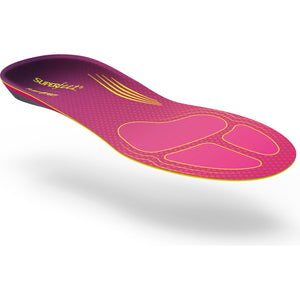 Improve your running efficiency, reduce foot fatigue and increase comfort with the Women's Superfeet RUN Comfort insoles.
Designed using women's specific dimensions, these insoles were made for running and walking to give you the best possible experience underfoot. The insoles have a women's specific deep heel cup that is narrower than other Superfeet RUN Comfort insoles. The cap is combined with a H.I.T. (Heel Impact Technology) Pod to position and cradle your heel to optimize natural shock absorption, disperse impact and minimize fatigue.
A responsive EVOLyte® carbon fiber cap and two layers of AeroSpring Rebound foam combine to deliver exceptional comfort and a smooth, efficient energy transfer through your gait from foot strike to toe-off. There is also a Moisturewick™ layer on top to help with odor control.
The Women's Superfeet RUN Comfort is made for women's specific arch shapes that stabilize the foot while running to reduce stress on the feet, ankles, knees and back. Check out our guide on how to choose the right Superfeet insole if you are unsure of which one is perfect for you.
These insoles are made to be trimmed to replace the removable sock liner in roomy to moderate-fitting running and walking shoes. Plus, when you purchase a pair of Superfeet insoles, you are making a difference—Superfeet donates 1% of sales and 1,000+ volunteer hours to organizations working to shape a healthy future.