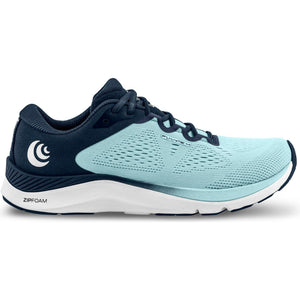 Lightweight and versatile, you will be reaching for the Topo Athletic Fli-Lyte 4 for all of your favorite workouts.
The Fli-Lyte 4 gets a midsole upgrade by adding ZipFoam™, Topo's proprietary midsole compound that will give you more of a pep in your step. The Fli-Lyte 4 features a widened platform for a smoother and more stable ride. It also features Topo's signature wide toe box that allows your toes to splay naturally, giving you more power and better balance.
The sleek new upper features a recycled engineered mesh with no overlays to give you a secure, breathable and comfortable fit. The new lacing system has loops, as opposed to the traditional eyelets, to keep the tongue locked in place over the foot. This is a versatile running shoe that can do the occasional HIIT class or other gym work, perfect for someone who is looking for one shoe to do it all.
Run like the wind in the women's Topo Athletic Fli-Lyte 4.