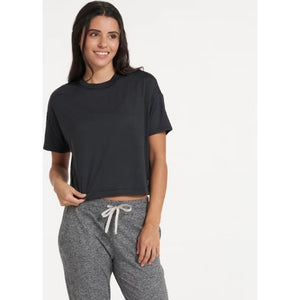 Vuori Energy Tee is a soft, stylish performance top, so you look good and feel great during your workout.

Vuori took its ultra-soft, ultra-comfortable material and made it into a fashionable, slightly cropped short sleeve shirt. This tee has been engineered to help you tackle high-intensity, sweat-inducing workouts with moisture-wicking materials, anti-odor properties and a UPF 30+ rating.
The Vuori Energy Tee is designed with a crew neck and flattering silhouette, so you feel comfortable and confident during your workouts. The shirt skims at your high hip so it pairs well with high-waisted legging, such as Vuori's Studio Pocket Leggings, or you can show off those abs that you work so hard to achieve.
Great for your runs or reading a good book at home, you'll want to wear the Vuori Energy Top all day long.